Week of August 30
Compiled by Dave Strickler. Bands play some form of blues unless specified. Start times are assumed 9-9:30pm unless specified. Cover charge given if known. If you have an addition, correction, cancellation please let me know. crawlin.kingsnake@comcast.net
If you find this calendar useful and enjoy blues, please show your support and appreciation by joining The Baltimore Blues Society. For just $25 a year/$35 for family you get a subscription to the Blues Rag with blues news, articles, and concert/festival/cd reviews. Your money helps the BBS bring national acts to the region and helps keep the blues alive by exposing new people to its music by paying for acts to be at non blues festivals such as Artscape and the Balto. Book Fair. A lot for $25. Send check marked membership with your name and address to: BBS, P.O. Box 4522, Baltimore, MD 21212
The Baltimore Blues Society is now on Facebook. Visit and join the group at BBS Facebook
Alonzo's Picnic Flashback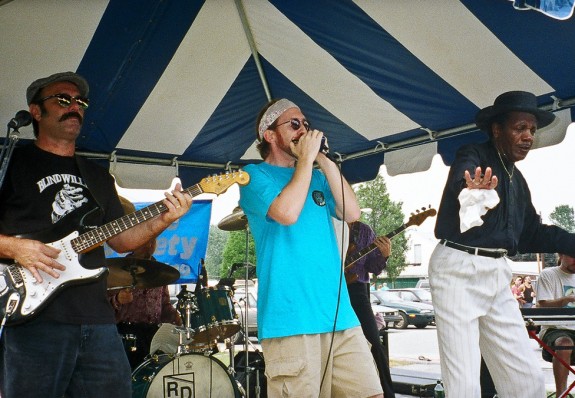 Bob Sekinger playing harmonica with King Ernest Baker and his band at the 11th Annual Alonzo's Memorial Picnic in 1997 in his fourth year as president of the Baltimore Blues Society. That is a sight you won't see this Sunday at the 19th Annual Alonzo picnic but you will see Jay Summerour, Brandon Santini and John Nemeth all playing harmonica. See all the details for this year's fest below. Photo by Ron Weinstock.
Sound Storm, an outstanding R&B, funk band had a memorable moment here as the two singers fight over a woman's affections as they sing "I'll get down on my knees for you" while doing the great Sam and & Dave song "You've Lost that Loving Feeling.  The band was playing at The Bowman in Parkville where it was really crowded with very little dance floor but the band was so good that everyone just started dragging tables out on the porch to create a dance floor and really had a party! More pictures and video to come.
Sorry for the Big Mistake Last Sunday
The Bad Influence band listed on the Union Hotel's website was not the blues band from Germantown, Md. which features Michael Tash and Roger Edsall, but was a rock band from the Poconos! I usually double check the venue against the band's site but the Union Hotel love the blues and I never thought there would be another band with that name in the area, I listed and highlighted the event. I'm sorry for anyone who went out there last Sunday. You can cuss me out when you see me at Alonzo's Sunday!
Wednesday, September 2

Black Falls @ Cat's Eye 1730 Thames St. Fells Point, 410-276-9866
Big Momma & Velvet Jones @ Waterfront Hotel, 1710 Thames St., Baltimore, MD. 410-537-5055
Bond & Bentley band bluesy rock/funk @ The Admirals Cup, 1647 Thames Street Baltimore, Maryland, 21231 Phone: 410-534-5555
Big Bertha's Rhythm Kings @ Berthas, 734 S. Broadway, Fells Point MD 21231-0349. 410-327-5795
open blues jam hosted by Scott Reda w/Tony Ryder bass and Sean Watkins drums. (weekly) 8pm @ American Legion Post 95 (Open to public for jam, just walk in), 1746 Fleet Street, Baltimore, Maryland 21231
Blue Mountain Rocking bluegrass video sample 8pm $18 @ Creative Alliance at the Patterson Theatre, 3134 Eastern Ave Baltimore, MD 21224 (410) 276-1651
Greg Allman and the Doobie Brothers 7pm $45-$100 @ Pier Six Pavilion, 731 Eastern Ave Baltimore, MD 21202 (410) 783-4189 to reserve tix
open jazz jam (weekly) 8pm No cover but $10 food/drink min. @ Club 347, 347 North Calvert St Baltimore Md
Maryland State Fair w/Josh Christina & Good Old Stuff and Nolan Garrett For complete info 6pm $8 @ Carolina Carports Stage at Maryland State Fairgrounds, 2200 York Rd, Lutherville-Timonium, MD 21093. (410) 252-0200
open mic w/JD Sage Video sample (weekly) 8pm @ Old School Tavern (Host) 3403 Conowingo Rd. Street, Md.
The Salamanders Vintage Rock 5pm @ Celebrity Bar & Grill inside Hollywood Casino 1201 Chesapeake Overlook Parkway Perryville, MD 21903 (410) 378-8500
—South & West——
acoustic open mic w/Brother Bill Smyth (weekly) 7:30pm @ Donna's, 6607 Pine Avenue, Dundalk  MD 21222. 410-633-6677
Carl Filipiak 8pm @ Costas Inn, 4100 Northpoint Blvd., Dundalk, Md. 21222
open jam hosted by CJ Hoffman and his Woodstock Jam Band Full backline provided. (weekly) 7:30pm@ Chappies, 3648 Washington Boulevard, Halethorpe, MD 21227
open jam with the Grillebillies Joe Poppen (guitar/vocals), carl cimino (keyboard/vocals), charles solomon (bass, harp, vocals), mike mautino on Drums (weekly various genres) Sign-up 7:30pm Jam 8pm @ Old Bowie Town Grill, 8604 Chestnut Avenue, Bowie, Maryland 20715. 301-464-8800
Betty Ladas (country from Nashville, website w/sound samples 7pm @ New Deal Cafe, 113 Centerway Greenbelt, Maryland -301-474-5642
open blues jam hosted by Steve "Wolf" Crescenze with Robert Frahm and Andy Hamburger (weekly) 7:30pm @ Blair's Londontown Pub, 726 Londontown Rd, Edgewater  MD 21037, 410-956-9799
Dean Rosenthal band 6pm on the patio @ Rams Head On Stage, 33 West Street Annapolis, MD 21401 (410) 268-4545
Swamp Candy Delta blues duo @ Heroes Pub, 1 Riverview Ave Annapolis, MD 21401 (410) 573-1996

Mary Shaver with Flatfoot Sam & the Educated Fools

6pm @ Barley and Hops Grill & Microbrewery, 5473 Urbana Pike, Frederick, Maryland 21704

Washington D.C.

open jazz jam 8pm @ Mr. Henry's, 601 Pennsylvania Ave SE, Washington, District of Columbia 20003
Esther Haynes trio Acoustic vintage jazz/blues 7pm @ La Porta's Restaurant, 1600 Duke St., Alexandria, VA. http://www.laportas.net. .

Virginia

outdoor concert w/Rick Franklin solo 11AM @ Sparket market on the sidewalk on the 1800 block of Crystal Drive Crystal City
19th Street Band 8:30pm @ JVs Restaurant, 6666 Arlington Blvd, Falls Church, VA. (703) 241-9504
Mudlark @ Basin St. Lounge upstairs at Two Nineteen Restaurant, King St, Alexandria ,VA, 22314 Call: 703-549-1141

Pennsylvania.

open jam (weekly) 8pm @ River City Blues and Darts Club, 819 S Cameron Street Harrisburg, PA 17104
open mic w/the Scot Farley band (weekly) @ Raven's Nest, 625 Old Bethlehem Road, Quakertown, Pennsylvania 18951. (215) 536-5369
Open Blues Jam w/Little Red Rooster (Weekly) 8pm @ Rob's Loft 52, 52 E State St, Doylestown, Pennsylvania 18901
open blues jam hosted by Buzzard Luck (weekly) @ The winners circle 5 East Walnut Street, Hanover, PA 17331. (717) 637-0000
Overload Junction (weekly) 6pm @ Joboy's, 27-31 East Main St, Lititz, Pennsylvania. (717) 568-8330
Don Johnson trio 7pm @ @ Duke's, 1715 E. Chocolate Ave., Hershey

Honey Island Swamp Band

Bob Malone opens 8pm $15 @ Sellersville Theater, 24 W Temple Ave, Sellersville, PA 18960 (215) 257-5808
open blues jam w/Skyla Burrell band 8pm (weekly) @ Webb's, 114 South Main Street, Chambersburg, Pennsylvania
Mikey Jr. & Filthy Rich (weekly) 8pm @ The Twisted Tail, 509 South 2nd Street, Philadelphia PA 19147. (215) 558-2471

Delaware.

Open Blues Jam (weekly) 7pm @ The Reef, in the Carpenter Plaza at 2618 Carpenter Station Road Wilmington, Delaware
Billy Bob Thornton and The Boxmasters (Country rock/rockabilly band from Calafornia) video sample ) Lower Case Blues opens $25 @ The Bottle and Cork, 1807 DE-1, Dewey Beach, DE For advance tix

Thursday, September 3

Pete Kanaras Blues Band @ Cat's Eye, 1730 Thames St. Fells Point, 410-276-9866
Jeff Reed trio (Jazz) Bob Butta – Piano, Eric Kennedy – Drums, Jeff Reed – Bass (weekly) @ Bertha´s Restuarant and Bar, 734 South Broadway Fells Point Baltimore, MD 21231. 410-327-5795
WTMD's First Thursday with The Alternate Routes (headlining acoustic duo), The Reverend Peyton's Big Damn Band (country blues Live video sample) , and Western Star opens 6:30pm Free @  Waterfront Park 3001 Boston St., Baltimore MD 21224
Sac-Au-Lait New Orlean's dixieland band w/horns @ Joe Squared Pizza, 133 W. North Ave, Baltimore, MD 21201, 410-545-0444
Amanda Lynn & Friends video sample6pm @ Souris' Saloon, 537 York Rd, Towson MD 21204. 410-296-1997
Maryland State Fair w/The Rat Pack & Rob Fahey and The Pieces For complete info 6pm $8 @ Carolina Carports Stage at Maryland State Fairgrounds, 2200 York Rd, Lutherville-Timonium, MD 21093. (410) 252-0200
Open blues jam w/Pat Redmond band @ Half Pints, 1204 Agora Drive, Bel Air, MD 21014 Phone: 410-420-9200
outdoor concert w/Swing City Big Band 5:30pm @ 101 East Main Street, Elkton, MD 21921
—South & West——
Automatic Slim & Jim Harrell Acoustic roots duo 7pm @ Bare Bones Grill in Saint Johns Plaza, 9150 Baltimore National Pike, Ellicott City, MD 21042. 410-461-0770
open mic hosted by Vic Mosca Blues and other genres welcome (weekly) 8pm @ Bippys Pub, 10194 Baltimore National Pike, (Baltimore National Pike and Pine Orchard Lane) Ellicott City, MD
Open mic w/Spike Settles (weekly) 8pm @ Woodstock Inn, 1415 Woodstock Rd, Woodstock, MD 21163. (410) 750-3673
Higher Hands Funk w/horns @ Stan and Joe's Saloon, 37 West St Annapolis, MD 21401 410-263-1993
Blues Dance w/various DJ's (weekly) Dance Lessons 8:15pm Dance 9pm $8 @ Ballroom Annex, aka Back Room up the steps on the far left portion of the Spanish Ballroom at Glen Echo Park, 7300 MacArthur Boulevard, Glen Echo, MD 20812
open blues jam hosted by Paul Shultzaberger & Jimi Cupino 8pm @ Cactus Flats, 10026 Hansonville Road, Frederick, Maryland 21702
The Blue Dominos 8pm (weekly) @ Always Rons Restaurant, 29 North Burhans Blvd, Hagerstown, MD. 301-797-7887

Washington D.C.

Lady Mary InDaHouse CANCELED @ Chuck & Billy's Bar and Grille, 2718 Georgia Ave NW, Washington, District of Columbia 20001

Bosley

8pc R&B, soul band with horns, keys M.H. & His Orchestra
open $10 @ The Black Cat, 1811 14th St NW, Washington, DC 20009
(202) 667-4490
outdoor concert w/The Nighthawks 6:30pm @ Waterfront Comcert, 600 Water St, SW Washingtin DC

Chris Thomas King

Thursday-Sunday $24 @ admission plus $12 food or drink minimum. Two 75-minute shows, 8pm and 10pm @ Blues Alley, 1073 Wisconsin Ave. NW, Washington, DC 20007. (202) 337-4141 to reserve tix
Colonial Josh & the Honky Tonk Hereos 8:30pm No cover @ Hill Country BBQ | 410 seventh street nw, washington, dc 20004 | 202-556-2050
open blues jam w/Big Boy Little band (weekly) 8:30pm @ Zoo Bar, 3000 Connecticut Ave. NW, Washington D.C.,202-232-4225

Virginia

Adrian Duke New Orlean's piano 7:30pm $15 @ The Carlyle Club 411 John Carlyle Street Alexandria, VA 22314 Tel: (703) 548-8899
The Thrillbillys with Johnny Castle from Nighthawks (weekly) 8:30pm @ JVs Restaurant, 6666 Arlington Blvd, Falls Church, VA. (703) 241-9504
Mike Kelley & friends (weekly) @ Basin St. Lounge upstairs at Two Nineteen Restaurant, 219 King St, Alexandria ,VA, 22314 Call: 703-549-1141
open blues jam Hosted by different Bluesgate musicians (weekly) 8pm @ Longshots, 76 Wolfcraft way Charles Town, WV25414 304.724.1975

Pennsylvania

open mic w/Mark Santanna (weekly) 8pm @ River City Blues and Darts Club, 819 S Cameron Street Harrisburg, PA 17104
open blues jam with Skyla Burrel Blues Band 8pm !@ South Mountain Hotel , 10479 Dixon Road, Fayetteville, Pennsylvania
Nate Myers and the Aces @ The Mill Restaurant at Hershey, 810 Old West Chocolate Avenue, Hershey, PA
Swamp Candy Delta blues duo 6:30pm @ The Cooperage, 1030 Main Street Honesdale, PA 18431 570.253.2020
Bob Noble band8pm @ Highland Pizzaria and Pub, 707 Olde Hickory Rd, Lancaster, PA 17603

BSCP Blues Jam

(weekly) 8pm @ Champions Sports Bar, 300 2nd St, Highspire, PA 17034. (717) 939-0488

Del

Jimmy Thackery

  Sponsored by Central Delaware Blues Society 7pm $15 @ Jonathan's Landing, 1309 Ponderosa Drive, Magnolia, Delaware 19962
The Bronx Wanderers Oldies doo wop group Video sample 7:30pm $35 Schwartz Center for the Arts, 226 S State St, Camden Wyoming, DE 19934. (302) 678-5152
Lower Case Blues (weekly) 7pm @ Delaware Distilling Co., 18693 Highway One, Rehoboth Beach, DE

Friday September 4

Bad Neighbors Classic rock @ Cat's Eye 1730 Thames St. Fells Point, 410-276-9866
Glenn Moomau & the Juke Drivers (weekly) @ Bertha´s Restuarant and Bar, 734 South Broadway Fells Point Baltimore, MD 21231. 410-327-5795
The Juneways roots R&R @ The Admirals Cup, 1647 Thames Street Baltimore, Maryland, 21231 Phone: 410-534-5555
The Players Raggae w/horns @ Nick's Fish House, 2600 Insulator Drive, Baltimore, MD 21230
Drunken Uncles @ Baltimore Yacht club, 800 Baltimore Yacht Club Road, Baltimore MD 21221. 410-682-2310
Voodoo Yahoos Classic rock 7pm @ Crab Quarters, 2909 Eastern Blvd, Middle River MD 21220. 410-686-2222
Blue Suede Bop free dance lessons 8pm. Music at 9pm $15 includes light refreshments, dance lesson. Non alcoholic event @ American Legion Post #22, 125 York Road, Towson, MD 21204. (entrance next to Papa John's) 410-583-7337
Rob Fahey & the Pieces Roots R&R @ Michael's Cafe 2119 York Rd, Timonium, MD 21093. Phone:(410) 252-2022
Ronnie Wayne & The TideWater Band For complete info 6pm $8 @ Carolina Carports Stage at Maryland State Fairgrounds, 2200 York Rd, Lutherville-Timonium, MD 21093. (410) 252-0200
Great Train Robbery Southern and blues rock @ Padonia Ale House, 63 E. Padonia Rd., Timonium MD 21093. 410-252-8181
outdoor First Friday concert w/Bel Air w/Head Rush 5pm @ parking lot next to Main Street Tower, 29 S. Main St. Bel Air Md 21014, 410.838.8007
First Friday w/Dave Mark Band Classic and blues rock 5pm @ In Front of Coakleys, Corner Of Franklin And St . John St., havre de Grace, Md.
First Friday w/The Majestics live video sample 8pc Classic rock w/horns 5pm @ near Joeseph's Department Store, 122 N Washington St, Havre de Grace, Maryland
First Friday w/Satyr Hill Band Bluegrass 5pm @ Laurrapin Grille, 209 N. Washington St, Havre de Grace, MD, 21078
One Eyed Jacks Classic rock 8pm @ American Legion Post 47 501 St John St, Havre De Grace, MD 21078
Strong Persauder @ MacGregor's Restaurant 331 St. John Street, Havre de Grace, MD 21078 410.939.3003
Jack Straw Road Band Acoustic duo featuring  Lorin Angelucci and J.d. Sage Live Video Sample CANCELED 8pm @ Coakleys Pub, 406 Saint John St, Havre de Grace, Maryland 21078
Crossfire Classic rock @ Pickled Herring Pub, in West Street Shoppes , 32 S. Main Street, North East, Md. 21901. 410-287-2020 (on left at corner of S. Main & West Sts.)
Dave Mell Band @ Hilltop Tavern- 825 Hilltop Rd., Fair Hill, MD
—South & West——
Rat Pack @ Costas Inn, 4100 North Point Blvd, Baltimore MD 21222. 410-477-1975
outdoor concert w/Crushing Day Classic rock. 7pm @ Franklin Middle School @ 10 Cockeys Mill Road, Reisterstown MD 21136. 443-695-2308
Maryland State Fair w/Mark Bray & The Steel Soul Cowboys and Wayne Tidewater band (both country) 6pm $8 @ Fairgrounds, 2200 York Rd, Lutherville-Timonium, MD 21093. (410) 252-0200
Bottle of Blues guest Nova filling in for Rebbeca on vocals. 8:30pm @ Towne Tavern, 10257 York Rd., Cockeysville MD 21030. 410-667-0774
Muleman Band 8pm @ The Birdcage Sports Bar,7089 Baltimore Annapolis Blvd, Glen Burnie, MD 21061. Phone:(410) 760-2337
Fast Eddie & the Slowpokes @ Smokin' Hot Bar and Grille, 2465 Route 97 Glenwood, MD 21738 410-489-6001

The Nighthawks

Acoustic show @ Twist and Turn Tavern, 13380 Clarksville Pike, Highland, MD 20777
Stout Steven band Country. Last show in the area. Video sample @
Old Bowie Town Grill, 8604 Chestnut Ave, Bowie, Maryland 20715
Greenbelt Labor Day Festival 7:30pm Band TBA; 9pm Patty Reese B and Carnival 11AM-10pm Free @ Roosevelt Center, 101 Centerway Greenbelt, Maryland -301-474-5642

Honey Island Swamp Band

video sample 8pm $20 @ Rams Head On Stage, 33 West Street Annapolis, MD 21401 (410) 268-4545
Higher hands Funk w/horns @ Red Red Wine Bar, 189 Main Street Annapolis, MD 21401 410-990-1144
outdoor concert w/Junkyard Saints 6:30pm @ Rockville Town Square, 200 East Middle Lane, Rockville, MD 20850
outdoor concert w/Bad Influence Noon @ Bethesda Plaza, Concert, 3 Bethesda Metro Cir Bethesda, MD
The Roustabouts @ Outta the Way Cafe, Derwood, MD
Jah Works Raggae band. Friday-Monday @ Seacrets, 117 49th Street, Ocean City, MD 21842
Los Swamp Monsters Roots R&R/rockabilly @ Johnny's Pizza, 5601 Coastal Hwy Ocean City, MD 21842 410-524-7499

Washington D.C.

AJ Ghent 

Live video sample Backbeat Underground opens $16 @ Gypsy Sally's, 3401 K Street NW , Washington, DC (under Whitehurst Freeway at 34 street NW.)
Kiti Gartner band (rockabilly/country) @ Haydee's Restaurant, 3102 Mt Pleasant St NW Washington,DC 20010
Chris Thomas King Thursday-Sunday $24 @ admission plus $12 food or drink minimum. Two 75-minute shows, 8pm and 10pm @ Blues Alley, 1073 Wisconsin Ave. NW, Washington, DC 20007. (202) 337-4141 to reserve tix
Gracie Curran & The High Falutin' Band 10pm @ Madam's Organ, 2461 18th Street, NW, Adams Morgan,, Washington D.C. 20009. (202) 667-5370
Over the Limit Featuring Dave Chappell and Andy Poxon @ Zoo Bar, 3000 Connecticut Ave. NW, Washington D.C.,202-232-4225

Virginia.

Shartel & Hume @ JVs Restaurant, 6666 Arlington Blvd, Falls Church, VA. (703) 241-9504
Blue Train Boogie @ O'Shaughnessy's, 1324 King St, Alexandria, Virginia 22314
InToneNation 10pm @ LA Bar & Grill, 2530 Columbia Pike Arlington, VA 22204 (703) 685-1560
Holly Montgomery @ Basin St. Lounge upstairs at Two Nineteen Restaurant, 219 King St, Alexandria ,VA, 22314 Call: 703-549-1141
Swinging Blues Revue w/Jeff Burgess and friends. Open to public, just sign guest book after entering. BYOB or buy at the bar. 8pm @ Annandale American Post 1976, 4206 Daniels Ave, Annandale, VA 22003
Big Joe Maher trio (weekly except for 1st Friday) 7pm @  Eddie V's, Tysons Corner, VA
Swing Dance w/Soul Tones of Swing (weekly) Drop-in beginner swing dance lesson with at 8:30 PM. Music 9pm $15 @ The Red Fox Room at the Hilton Washington Dulles Hotel,13869 Park Center Road, Herndon, VA
Hard Swimming Fish 7pm @ The Cajun Experience, 14 Loudoun St SE, Leesburg, VA 20175
(703) 777-6580
Zach Smikth & the Dixie Power trio (Cajun) @ Kalypso's Sports Tavern in Lake Anne Village Center, 1617 Washington Plaza N, Reston, VA 20190. (703) 707-0660
Mary Ann Redmond band 8pm $15 @ Bright Box Theater 15 N Loudoun Street, Winchester, Va. 22601

Pennsylvania

Jimmy Adler Band w/Ann Kerstetter @ River City Blues and Darts Club, 819 S Cameron Street Harrisburg, PA 17104. (717) 525-8926
open blues jam Different host each week (weekly) @ Speal's Tavern, 1850 Lions Club Rd, New Alexandria, PA 15670. (724) 433-1322 (Off of the intersection of Rt.119 and Rt. 22) Phone 724-433-1322
open blues jam hosted by Ash Phipps & friends  3-5pm (weekly) @ The freckled radish 5815 York Rd, New Oxford, PA 17350 (717) 624-7001
Nate Myers and the Aces 7pm @ MoMos BBQ, 307 Market Street, Harrisburg, PA
Dr. Harmonica band 8pm @ Chadds Ford tavern, 1400 Baltimore Pike, Chadds Ford, PA 19317
(484) 840-8118
Miss Melanie & the Valley Rats trio  (weekly) @ Otto's, 2235 North Atherton st State College, PA 16803. (814) 867-6886
Vanessa Collier @ The Twisted Tail, 509 South 2nd Street, Philadelphia PA 19147 (215) 558-2471

Bosley

9pc R&B soul band w/horns, keys. Wild Orphan opens 8pm $10 @ World Cafe Live • 3025 Walnut Street • Philadelphia, PA 19104 • 215-222-1400
Eric Steckel, Jamie McLean & Sister Blue 7:30PM $19.50/$29.50 @ Sellersville Theater, 24 West Temple Avenue, Sellersville PA 18960. 215-257-5808
Tattar Tucker Moog & Jackson @ Venetian Social Club Philadelphia, PA

Eric Bibb

7:30pm Free @ Levitt Pavilion SteelStacks, 645 E. First Street, Bethlehem, PA 18015. 610-297-7285
Allentown Fair  with BC Combo 5:30pm @ Harvest Patio Stage in front of the Agri-Plex Exhibition Bldg. Allentown Fairgrounds, 302 N. 17th St., Allentown PA 18104

Billy Price Band

8pm @ James Street Gastropub & Speakeasy, Pittsburgh, PA

Delaware

Roger Girke Band 8pm @ Lewinsky's on Clinton, 92 Clinton Street, Delaware City, DE
Red Alert Band Motown/R&B/soul @ Delaware Park Casino, 777 Delaware Park Blvd., Wilmington, DE
Lower Case Blues @ High Stakes, 5799 Lighthouse Rd, Fenwick Island, DE
Mari Hill band Friday & Saturday 8pm @ Sussex AmVets Post 2, 32592 Long Neck Rd Millsboro, DE 19966 3029450406

Jimmie Smooth & HitTime

7pc classic R&B, soul, Motown w/horns, keys 7pm @ Rehoboth Beach Bandstand, Rehoboth Beach, DE
Comfort Zone Funk/R&B @ Bethany Blues, 18385 Coastal Highway, Lewes, DE 19958. 302-644-2500

Saturday, September 5

Pakiva Blues Band Noon @ Lexington Market, 400 W. Lexington St., Baltimore, MD
Ursula Ricks Project 4pm @ Cat's Eye 1730 Thames St. Fells Point, 410-276-9866
Jimmy Adler Band @ Cat's Eye 1730 Thames St. Fells Point, 410-276-9866
Automatic Slim Band @ Berthas, 734 S. Broadway, Fells Point MD 21231-0349. 410-327-5795
Sound Storm (6pc classic R&B, Motown, funk) @ The underground at the Charred Rib, 9527 Harford Rd, Parkville
Barry Prosser and The Ordeal Classic rock 8:30pm @ Souris' Saloon, 537 York Rd, Towson MD 21204. 410-296-1997
Maryland State Fair w/Crawdaddies  & Great Train Robbery For complete info 6pm $8 @ Carolina Carports Stage at Maryland State Fairgrounds, 2200 York Rd, Lutherville-Timonium, MD 21093. (410) 252-0200
Rock Fest Pianha, Nomads, Victim and Golden Sombaros $6 @ Dicks Halfway Inn, 8013 Philadelphia Rd., Baltimore MD 21237, 410-866-0101
Mark Bray band (Country) @ Hollywood Casino Perryville, 1201 Chesapeake Overlook Pkwy, Perryville MD 21903, 410-378-8500
Red Alert Motown, classic R&B/funk 7pm @ The Wellwood, 523 Water Street Charlestown, MD 21914 410-287-6666
Half Past Seven Classic rock trio @ Pickled Herring Pub, in West Street Shoppes , 32 S. Main Street, North East, Md. 21901. 410-287-2020 (on left at corner of S. Main & West Sts.)
—South & West——
Andy Poxon band @ Bare Bones Grill in Saint Johns Plaza, 9150 Baltimore National Pike, Ellicott City, MD 21042. 410-461-0770
Soul Island Rebels bluesy rock / funk@ The Still, 2323 York Rd Lutherville-Timonium, MD21093
Bond & Bentley band @ The Office Bar & Grill, 2801 Mountain Rd, Pasadena, Maryland 21122
Doc Rogers Band @ Nuzback's, 14405 Baltimore Ave., Laurel MD 20707, 301-725-9820
The Wharf Rats Grateful Dead style music featuring Joy Bodycomb @ River Hill Sports Grille • 6040 Daybreak Circle • Clarksville, Md Directions • 410-531-7900
Greenbelt Labor Day Festival 2pm Mary Shaver & Smokin' Polecats; 5pm Moonlighters (Motown, R&B, 50's and big band); 8pm Johnny Seaton band Elvis tribute For complete details Carnival Noon-10pm Free @ Roosevelt Center, 101 Centerway Greenbelt, Maryland -301-474-5642
Gina DeSimone & the Moaners 8:30pm @ New Deal Cafe, 113 Centerway Greenbelt, Maryland -301-474-5642
Rhythm Bandits rock/blues @ Branded 72, 387 East Gude Drive, Rockville, Maryland 20850
Ultra Kings rockabilly @ Hank Dietle's Tavern, 11010 Rockville Pike, Rockville, Maryland 20852
Truly Unruly Band @ Hersheys, 17030 Oakmont Ave, Gaithersburg, MD 20877. Ph: 301 948 9893
outdoor concert w/Mary Shaver with Bad Influence 6pm @ Market Square Live Kentlands, 705 Centerpoint Way, Gaithersburg MD 20878
The Colliders Vintage R&R/rockabilly) ring buzzer to get in @ VFW Post 2562, 11316 Fern St., Wheaton  MD 20902.

Jimmy Thackery

8pm $20 plus $10pp minimum food/drink @ Bethesda Blues & Jazz Supper Club 7719 Wisconsin Avenue Bethesda, MD 20814. 240.330.4500
Archie Edwards Barbershop Foundation open acoustic blues jam  (weekly) Piedmont Guitar Practice Sessions with Gina DeSimone Noon-1pm Open acoustic Jam: 1-6pm @ Archies Barbershop 4701 Queensbury Rd Riverdale, MD 20737. (301) 396-3054
Swing dance w/Brooks Tegler Band $18 @ Bumper Car Pavilion at at Glen Echo Park, 7300 MacArthur Boulevard, Glen Echo, MD 20812

The Nighthawks

8pm @ Ruddy Duck, 13200 Dowell Rd, Dowell, MD 20629
Miike Westcott Band @ The Outta The Way Cafe, Outta The Way Cafe, 17503 Redland Rd, Derwood, MD 20855
Sandra Dean Band @ The Music Cafe, 26528-B Ridge Road, Damascus, MD. (301) 253-1500
outdoor concert w/Hard Swimming Fish 6pm @ First Saturday Frederick, 22 S Market St Frederick, MD 21701
Bushmaster 8pm @ Brewer's Alley, 124 North Market Street Frederick, MD 21701
Tom Larsen band 6pm @ Ocean Pines Yacht Club One Mumford's Landing Rd., Ocean Pines/ Berlin, MD, 21811, USA 410-641-7501
Jah Works Raggae band. Friday-Monday @ Seacrets, 117 49th Street, Ocean City, MD 21842| 410-524-4900

Washington D.C.

DC Blues Society Festival

with Jackson and Oziel , The Mojo Priests, Full Power Blues, James Armstrong, Sharrie Williams Noon-7:30pm @ Carter Barron Amphitheater, 16th Street & Colorado Avenue, NW, Washington, DC 20008
Sol Roots 10pm@ JoJo's, 1518 U Street NW Washington DC 20009 • (202)319-9350
Chris Thomas King Thursday-Sunday $24 @ admission plus $12 food or drink minimum. Two 75-minute shows, 8pm and 10pm @ Blues Alley, 1073 Wisconsin Ave. NW, Washington, DC 20007. (202) 337-4141 to reserve tix
Human Country Jukebox 10pm @ Madam's Organ, 2461 18th Street, NW, Adams Morgan, Washington D.C. 20009. (202) 667-5370
Big Boy Little @ Zoo Bar, 3000 Connecticut Ave. NW, Washington D.C.,202-232-4225

Virginia

Young Relics R&R @ JVs Restaurant, 6666 Arlington Blvd, Falls Church, VA. (703) 241-9504
outdoor concert w/David Akers & the Soul Shakers 7:30pm @ reston concerts Save 11900 Market St Reston, Virginia
Capital Blues Ensemble @ Basin St. Lounge upstairs at Two Nineteen Restaurant, 219 King St, Alexandria ,VA, 22314 Call: 703-549-1141
Voodoo Blues 7:30pm @ The Cajun Experience, 14 Loudoun St SE, Leesburg, VA 20175
Fast Eddie & the Slowpokes @ Ice House Cafe, Herndon, VA
Reston Jazz & Blues Festival 1:PM Ted Garber; 2:PM Cissa Paz; 3:PM Integriti Reeves; 4:PM Nia Olabesi, 5:PM Mykle Lyons; 6PM Texas Chainsaw Horns and 7PM Adrian Duke. Free @ Lake Anne Village Center 1609 Washington Plaza, Reston, VA 20190
Glimmer Twins Rolling Stone tribute band from Philadelphia 6pm $15 @ Tarara Winery, 13648 Tarara Lane, Leesburg , VA 20176. 703-771-7100

Pennsylvania

Kipona Festival, Noon Dave Wilson Jazz Band; 2:30pm Laredo Country Band; Los Monstros Latin Band; 7pm Funktion Band For complete schedule/info Noon @ Main Stage at Riverfront Park, Harrisburg, PA
Don Johnson trio @ The Mill, 810 Old W. Chocolate Ave., Hershey
Skyla Burrell Blues Band 7pm @ Hauser Estate Winery, 410 Cashtown Road, Biglerville, Pennsylvania

Ronnie Baker Brooks

7:30pm $23 @ Building 24 Live, 1115 Bern Road Wyomissing, PA 19610 to reserve tix
Sister Blue with Mark Furman Band 2pm @ Long Trout Winery, 84 Fork Mountain Road, Auburn PA. 570-366-6443

Hamburger Festival

10:30AM Whiskey Kreek; 12:45 pm Pawn Shop Bound; 3pm Sterling Koch Band; 5:15pm Rock Man Blues Band On the Sizzler Stage. Also four other non-blues stages nearby. complete lineup/info 10AM-6pm Free but $5 for parking @ Sizzler Stage (blues stage), in the Beer & Wine Patty-O Beer Garden, 4th & Pine Streets, Hamburg, Pa.
Bob Noble Band 7:30pm @ Raystown Lake Marina, Chipmonk Crossing, Raystown Lake, PA
Larry Tucker Band 8:30pm @ Hilltop Crab House Restaurant, 8980 Gap – Newport Pike, Toughkenamon, Pa 19374. 610-268-2766
Johnny Never & Zep Harpo 6pm @ Nora Lee's. 124 Delaware Street, Old New Castle, DE
Nate Myers and the Aces 10pm @ William Penn Restaurant & Bar, 633 Cumberland Street, Lebanon, PA
outdoor concert w/Rock n' Roll Relics 6:30pm @ Quincy Ox Roast Grounds, 8098 Anthony Highway, Waynesboro PA 17268
Mikey Jr. Acoustic Solo 8pm @ Riegelsville Tavern, 10-12 Delaware Rd, Riegelsville Pennsylvania 18077. US 610-749-0100
Reverend Chris & the High Rollers @ The Twisted Tail, 509 South 2nd Street, Philadelphia PA 19147 (215) 558-2471
Blackbird Society Orchestra 1920's hot jazz Free @ D Community Stage on the Air Products Town Square at ArtsQuest Center, 101 Founders Way, Bethlehem, PA 18015. 610-297-7100
James Supra Band 3pm @ Pinnacle Ridge Winery, 407 Old Route 22 Kutztown, PA 19530 610 756 4481
Billy Price & the Lost Minds 8:30 pm @ Downey's House, Robinson, PA

John Nemeth and Gracie Curran 

8:30pm $15 @ Moondog's 378 Freeport Rd, Blawnox, PA 15238. (412) 828-2040

Delaware

ohnny Never & Zep Harpo Blues Duo 7pm @ Nora Lee's French Quarter Bistro, 124 Delaware St., New Castle DE 19720. 302-322-7675
Alicia Maxwell with the Tommy Alderson Group 8pm @ Aqua Sol;, 3006 Summit Harbour Pl, Bear, DE 19701. (302) 365-6490
Arden Fair w/Badmobile, John Lee Band, Luna Fugate w/ Kevin McCabe, Buffalo Chip & the Heard, Vanessa Collier, Whirled Peas, Tugboat Kingdom, Diamond State Concert Band. For more info 10AM-6pm @ Shady Grove Stage at Arden Guild Hall, 2126 The Hwy, Wilmington, DE 19810. (302) 475-3126
Roger Girke Band 6pm @ Blue Earl Brewing Company, 210 Artisans Drive, Smyrna, DE
Lowr Case Blues 6pm @ Seafood City, 9996 S Dupont Hwy, Felton, DE
Mari Hill band Friday & Saturday 8pm @ Sussex AmVets Post 2, 32592 Long Neck Rd Millsboro, DE 19966 3029450406

Sunday September 6

Steve Kraemer & The Bluesicians (weekly) 4pm @ Cat's Eye Pub, 1730 Thames St., Fells Point, Baltimore, MD 21231. 410-276-9866
Grapefruit Kings @ Cat's Eye Pub, 1730 Thames St., Fells Point, Baltimore, MD 21231. 410-276-9866

Alonzo's Memorial Picnic

In reserves order of appearance: John Nemeth, Brandon Santini, Slam Allen, Eleanor Ellis with Jay Summerour Sponsored by The Baltimore Blues Society. Open to the public. BYOB and food. Food and drinks also available for purchase. Noon-8:30pm $40 @  the grounds of the Rosedale American Legion Hall, 1331 Seling Ave., Rosedale, MD 21237. BBS Info Line: 410-744-2291
Maryland State Fair w/Midnite Run and Wylde Fire For complete info 6pm $8 @ Carolina Carports Stage at Maryland State Fairgrounds, 2200 York Rd, Lutherville-Timonium, MD 21093. (410) 252-0200
Fabtastic Four (Beatles tribute band) @ Looney's Pub, 312 S Main St, Bel Air, Maryland 21014
Dave Mell Blues Band 1pm @ Union Hotel Restaurant, 1282 Susquehanna River Rd, Port Deposit, Md. (410) 378-3503
Junior Cline & the Recliners 2pm @ Lee's Landing Dock Bar, 600 Rowland Drive, Port Deposit, MD 21904
—South & West——
outdoor concert w/Little Sammy and Soulification 3pm @ Columbia Lakefront, 10275 Little Patuxent Pkwy, Columbia, Maryland 21044
Greenbelt Labor Day Festival 2pm Fast Eddie & the Slowpokes; 8pm Nowhere Men Classic rock with horns. For complete details Carnival 11AM-10pm Free @ Roosevelt Center, 101 Centerway Greenbelt, Maryland -301-474-5642
Big Money 3pm @ Skipper's Pier, 6158 Drum Point Rd, Deale, Maryland 20751

DCBS Blues Jam

4-8pm @ American Legion, 905 Sligo Avenue, (entrance at parking lot on Fenton Street), Silver Spring, MD 20910
Mary Ann Redmond (weekly) 8pm @ Flanagans Harp & Fiddle, 4844 Cordell Ave., Bethesda, Md.301-951-0115
outdoor concert w/Moondog Medicine Show 8pm @ Creek Side Inn, Security Rd, Hagerstown, MD,
open blues jam w/Blues in the Attic (weekly) 3pm @ Woodpoint Seafood Grille, 1437 Salem Avenue, Hagerstown, MD 301-733-0800
Tranzfusion rock 6pm @ Ocean Pines, 1 Mumford's Landing Road, Ocean Pines MD 21811, 410-641-7501
Jah Works Raggae band. Friday-Monday @ Seacrets, 117 49th Street, Ocean City, MD 21842

Washington D.C.

Sol Roots 4:30pm (weekly) @ JoJo's, 1518 U Street NW Washington DC 20009 • (202)319-9350
Los Lobos 7:30pm $48-$55 @ The Hamilton, 600 14th St NW, Washington, DC 20005 (202) 787-1000
Chris Thomas King Thursday-Sunday $24 @ admission plus $12 food or drink minimum. Two 75-minute shows, 8pm and 10pm @ Blues Alley, 1073 Wisconsin Ave. NW, Washington, DC 20007. (202) 337-4141 to reserve tix
Mike Flaherty's Dixieland Direct Jazz Band (live video samples) (weekly) 7:30-10pm @ Zoo Bar, 3000 Connecticut Ave. NW, Washington D.C., 202-232-4225
Ian Walters & friends (weekly) 8pm @ Wonderland Ballroom, 1101 Kenyon St NW  , Washington D.C. 20010. (202) 232-5263
Stacy Brooks @ Madam's Organ, 2461 18th Street, NW, Adams Morgan, Washington D.C. 20009. (202) 667-5370

Virginia.

Labor Day Brunch w/ Andy Poxon 1PM @ JVs Restaurant, 6666 Arlington Blvd, Falls Church, VA. (703) 241-9504
Pickin Grinnin and Sinnin Vernon, Richard Santmyer and Pauline Hew Haw kinda show 4pm @ JVs Restaurant, 6666 Arlington Blvd, Falls Church, VA. (703) 241-9504
Linwood Taylor Band with Sol Roots 8:30pm @ JVs Restaurant, 6666 Arlington Blvd, Falls Church, VA. (703) 241-9504
The Curbfeelers @ William Jeffreys Tavern, 2301 Columbia Pike Arlington, VA 22204 (703) 746-6333
Along for the Ride Featuring Robert Frahm (weekly) 8:30pm @ Basin St. Lounge upstairs at Two Nineteen Restaurant, 219 King St, Old Town, Alexandria ,VA, 22314 Call: 703-549-1141

The Spirit Antique & Custom Motorcycle Show w/The Nighthawks

Doug Parks & the Lone Wolves open Food & drink available. 2pm $20 donation to Jill's House @ Vienna Moose Lodge, 9616 Courthouse Rd, Vienna, VA 22181
open blues jam (Robbie Liebrick/drums, Denny Begle/bass and Jeff Burgess/guitar). (weekly) 5pm @ Moe's Peyton Place, 6516 Backlick Road, Springfield Va. 703.451.6620

Pennsylvania

Don Johnson Project 2:30pm @ DJP @ Kipona, Front St., Harrisburg
Chilli Cook-off w/Kelly Bell Band 2pm, Macy K, Cledus Snow Mother Truckers Event starts noon $8.50 @ Good Field, 47-99 N Forney Ave, Hanover, PA 17331
Kipona Festival, Noon Bayou Bandits; 2:30pm Don Johnson Project; 7:30pm Vinyl Groove Motown; Sunset – Fireworks Show (City Island) For complete schedule/info

Noon @ Main Stage at Riverfront Park, Harrisburg, PA

Cedric Lawson band @ River City Blues and Darts Club, 819 S Cameron Street Harrisburg, PA 17104. (717) 525-8926
Mojo Gypsies 3pm @ Fran's Pub 116 S Main St New Hope PA (215) 862-5539
open blues jam with Mikey Jr. & friends (weekly) 5pm @ The Twisted Tail, 509 South 2nd Street, Philadelphia PA 19147. (215) 558-2471

Jimmy Thackery

7:30pm Free @ Levitt Pavilion SteelStacks, 645 E. First Street, Bethlehem, PA 18015. 610-297-7285

Barrence Whitfield & The Savages

Roots

R&R

Live Video Sample

 Shannon Bishop opens 9:30pm $20 @ Webster's Bookstore Cafe , 133 E Beaver Ave, State College, PA 16801. 

Phone:

(814) 826-3278

Delaware

Venom Blues Unplugged 6pm @ Ubon, 936 Justison Street, Wilmington, DE 19801. 302-656-1706
Boxturtle Bob One Man Band Noon @ Lewinsky's on Clinton, 92 Clinton Street, Delaware City, DE
Lower Case Blues (weekly) 4pm @ Big Chill Surf Cantina, 19406 Coastal Hwy, Rehoboth Beach, DE
open blues jam w/Lower Case Blues (weekly) 10pm @ The Pond, 3 S 1st St, Rehoboth Beach, DE 19971. (302) 227-2234

Monday September 7

open blues jam with host Gina DeLuca band (weekly) 8pm @ The Admirals Cup, 1647 Thames Street Baltimore, Maryland, 21231 Phone: 410-534-5555
Sean K. Preston solo @ Waterfront Hotel, 1710 Thames St., Baltimore, MD. 410-537-5055
Phil Cunneff trio Derrick Michaels – tenor saxophone, Jake Leckie – bass, Phil Cunneff – drums @ Cat's Eye 1730 Thames St. Fells Point, 410-276-9866
jazz jam Different host each week. (weekly) 8pm No cover but $10 food/drink min. @ Club 347, 347 North Calvert St Baltimore Md
open jazz jam w/Hot Club of Baltimore (gypsy jazz weekly) Music from the 30's and 40's. Acoustic guitar, vocals, violin, horns, upright bass, and piano are typical instruments of this style. (weekly) 8pm @ Liam Flynn's Ale House 22 W North Ave Baltimore MD 21218 410-844-8447
Maryland State Fair w/Beatlmania Returns (Tribute) & Head Rush For complete info 6pm $8 @ Carolina Carports Stage at Maryland State Fairgrounds, 2200 York Rd, Lutherville-Timonium, MD 21093. (410) 252-0200
outdoor concert w/Common Ground (Modern Country/classic rock) Pit beef for sale. Noon @ Chesapeake Harley-Davidson, 4600 Thunder Court, Darlington, Maryland 21034
Alicia Maxwell with the Tommy Alderson group 1pm @ Union Hotel Restaurant, 1282 Susquehanna River Rd, Port Deposit, Md. (410) 378-3503
—South & West——
Greenbelt Labor Day Festival 2pm Fabulous Hubcaps Oldies show band with horns, keys) . For complete details Carnival parade at Noon Free @ Roosevelt Center, 101 Centerway Greenbelt, Maryland -301-474-5642
Blue Monday with Tony and Tooky Different blues artist hosts each week (weekly) @ Republic, 6939 Laurel Ave, Takoma Park, MD 20912. (301) 270-3000
Jah Works Raggae band. Friday-Monday @ Seacrets, 117 49th Street, Ocean City, MD 21842, | Ocean City, MD | 410-524-4900

Washington D.C.

Barrence Whitfield & The Savages

(

Roots

R&R) Live Video Sample 8:30pm $15 @ Hill Country BBQ | 410 seventh street nw, washington, dc 20004 | 202-556-2050 To reserve tix

Blue Monday

w/David Cole & Main Street Blues 6pm $5 Dinner available at extra cost @ Westminster Church, 400 I St., SW, Washington D.C.
One Night Stand (weekly) @ Madam's Organ, 2461 18th Street, NW, Adams Morgan, Washington D.C. 20009. (202) 667-5370

Virginia

open blues jam w/host Wolf Crescenze and friends 8:30pm (weekly) @ JV's Restaurant, 6666 Arlington Blvd., Falls Church  VA 22042. 703-241-9504
Capital Blues Ensemble (weekly) @ Basin St. Lounge upstairs at Two Nineteen Restaurant, 219 King St, Old Town, Alexandria ,VA, 22314 Call: 703-549-1141

Pennsylvania

Kipona Festival, Noon Nate & The Aces Blues Band; 5pm – Me & Us Funk and R&B Band (Main Stage – Riverfront Park) For complete schedule/info Starts Noon @ Main Stage at Riverfront Park, Harrisburg, PA
Don Johnson Project Noon @ Hershey Italian Lodge, Hillcrest St., Hershey
open blues jam w/Jimmy Pritchard (weekly) 8pm @ fran's pub, 116 s. main st, new hope, pa 18938

Tuesday September 8

Drunken Uncles @ Cat's Eye 1730 Thames St. Fells Point, 410-276-9866
Todd Miller Band (weekly) @ The Admirals Cup, 1647 Thames Street Baltimore, Maryland, 21231 Phone: 410-534-5555
—South & West——
Open mic w/Brother Bill (weekly) 7:30pm @ Alibi's Bar & Grill, 7935 Elizabeth Rd, Pasadena MD 21122. 443-637-7267
Warner Williams Solo acoustic Piedmont blues 7pm @ New Deal Cafe, 113 Centerway Greenbelt, Maryland -301-474-5642
Swamp Candy Acoustic Delta blues duo (weekly) 10pm @ Ramshead Tavern, 33 West Street Annapolis, MD 21401 (410)268-4545
Cory Henry & The Funk Apostles live video sample 8pm $25 plus $10pp minimum food/drink @ Bethesda Blues & Jazz Supper Club 7719 Wisconsin Avenue Bethesda, MD 20814. 240.330.4500
open blues jam the fall return of the jam 7pm @ VFW Post 350, 6420 Orchard Ave, Takoma Park, Maryland

Washington D.C..

The Garnett Hearts rockabilly 8:30pm Free @ Hill Country BBQ | 410 seventh street nw, washington, dc 20004 | 202-556-2050
Johnny Artis band (weekly) @ Madam's Organ, 2461 18th Street, NW, Adams Morgan, Washington D.C. 20009. (202) 667-5370

Virginia.

Exit 10 @ Basin St. Lounge upstairs at Two Nineteen Restaurant, 219 King St, Alexandria ,VA, 22314 Call: 703-549-1141

Mark Wenner's Blues Warriors

Paul Bell and Clarence Turner guitar with mark Stutso drums, Steve Wolf bass @ JV's Restaurant, 9:00 pm 6666 Arlington Blvd, Falls Church, VA 22042
The Crawstickers Featuring Andy Poxon (weekly) @ 219 Restaurant/Basin Street Lounge, Alexandria, VA
open blues jam Sponsored by the Central Virginia Blues Society. (weekly) Solo/duo 8pm and Open band jam by11pm (earlier depending on solo/duo signups) @ The Hot Spot, 901 W Broad St, Waynesboro, VA 22980

Pennsylvania

Nate Myers trio (weekly) @ Grotto Pub, 104 Market Street Enola, PA 17025

Delaware

John Nemeth

Limited seating, call for reservations 7pm $25 @ St. George's Country Store, 1 Delaware Street, Saint Georges, DE 19733. 302-836-8202
Lowercase Blues (weekly) 4pm @ Hammerheads Dockside, 39415 Inlet Rd, Rehoboth Beach, DE