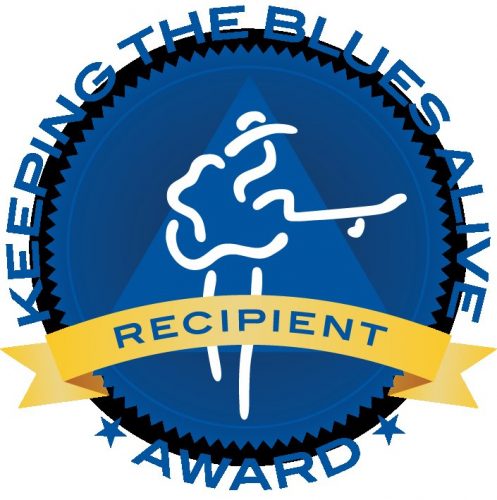 The BBS is a 2017 Recipient
"Keeping The Blues Alive"  www.blues.org
SATURDAY  APRIL  8
Alligator Recording Artist
JAREKUS SINGLETON
Stinging blues guitar and potent, original songs herald the emergence of a major new talent. – USA TODAY
Jarekus Singleton is one of the most exciting blues guitars to come along in years…..Boundless enthusiasm…..Singleton shoots super-heated notes through the chords with an emotional directness and a musical spirit that's all his own. – DOWNBEAT
At just 32 years old, Jarekus Singleton is a musical trailblazer with a bold vision for the future of the blues. Springing from the same Mississippi soil as Charley Patton, Muddy Waters and B.B. King, Singleton's cutting-edge sound—equally rooted in rap, rock and blues traditions—is all his own. He melds hip-hop wordplay, rock energy and R&B grooves with contemporary and traditional blues, turning audiences of all ages into devoted fans. With his untamed guitar licks and strong, soulful voice effortlessly moving from ferocious and funky to slow and steamy to smoking hot, Singleton is a fresh, electrifying bluesman bursting at the seams with talent.
Singleton's Alligator debut, Refuse To Lose, features a scintillating guitar attack and lyrically startling original songs all sung with a natural storyteller's voice. Produced by Singleton along with Alligator Records president Bruce Iglauer and recorded at PM Music in Memphis, the album is an impossible-to-ignore first step onto the world stage. With songs telling real life, streetwise (sometimes funny) stories brimming with surprising images, pop culture references, infectious rhythms and unexpected musical twists, Refuse To Lose unleashes a new wave of blues for a new generation of fans. Jarekus Singleton has been tearing up clubs and festivals across the US and Canada and has performed twice at the world-renowned Chicago Blues Festival. With the addition of high-visibility performances including Springing The Blues Festival, Biscuits & Blues in San Francisco, The North Atlantic Blues Festival, The PA Blues Festival, The Mississippi Valley Blues Festival, Heritage Music Blues Festival, The Cincinnati Blues Festival, The Festival International du Blues, Mont-Tremblant, Quebec and many more, Singleton is on the cusp of international stardom. He's gone on to garner four award nominations in the Blues Music Awards, the highest honor in the blues.
Rosedale American Legion Hall
1331 Seling Ave.
Rosedale, MD 21237
BBS Info Line: 410-744-2291
Map to Legion Hall
Show 830 – 12AM
$25/Adv  $30 at the door
All are welcome! Coolers OK. BYOB. 
Legion bar is open.
BBS Members can reserve a full table (10) and groups of 6 or more can reserve space by calling Sam Cohen 410-866-6280
Send Self Addressed Stamped Envelope to: BBS Tickets
PO 4522, Baltimore MD 21212
to be received by March 31
Sound by Naz Bros.