Week of Feb. 12

Compiled by Dave Strickler. Bands play some form of blues unless specified. Start times can be assumed 9-9:30pm unless specified. Cover charge given if known. If you have an addition, correction, cancellation please let me know. crawlin.kingsnake@hotmail.com
It is best, especially before driving long distances, to call the number provided in case the event had to be canceled.
If you find this calendar useful and enjoy blues, please show your support and appreciation by joining The Baltimore Blues Society. For just $25 a year/$35 for family you get a subscription to the Blues Rag with blues news, articles, and cd reviews. Your money helps the BBS bring national acts to the region and helps keep the blues alive by exposing new people to its music. Send check marked membership with your name and address to: BBS, P.O. Box 4522, Baltimore, MD 21212
The Baltimore Blues Society is now on Facebook. Visit and join the group at BBS Facebook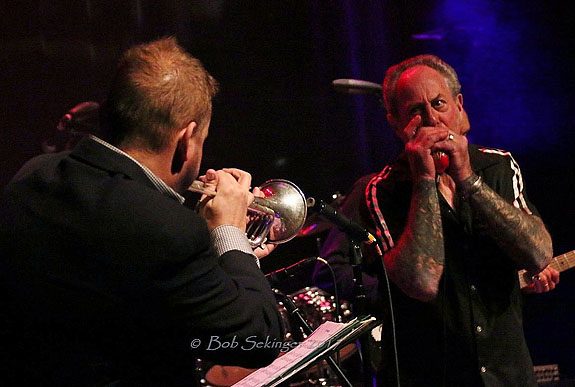 Don't know if this was a call and response or just playing together but I'm sure it enhanced the show with the Nighthawks and the Billy Price band at The Bethesda Blues and Jazz Club Friday. Photo by Bob Sekinger.
Click on the day below you are interested in seeing.